You are now ordering for the week of 11/29. Orders are due by Wednesday 11/25 at 11:59pm.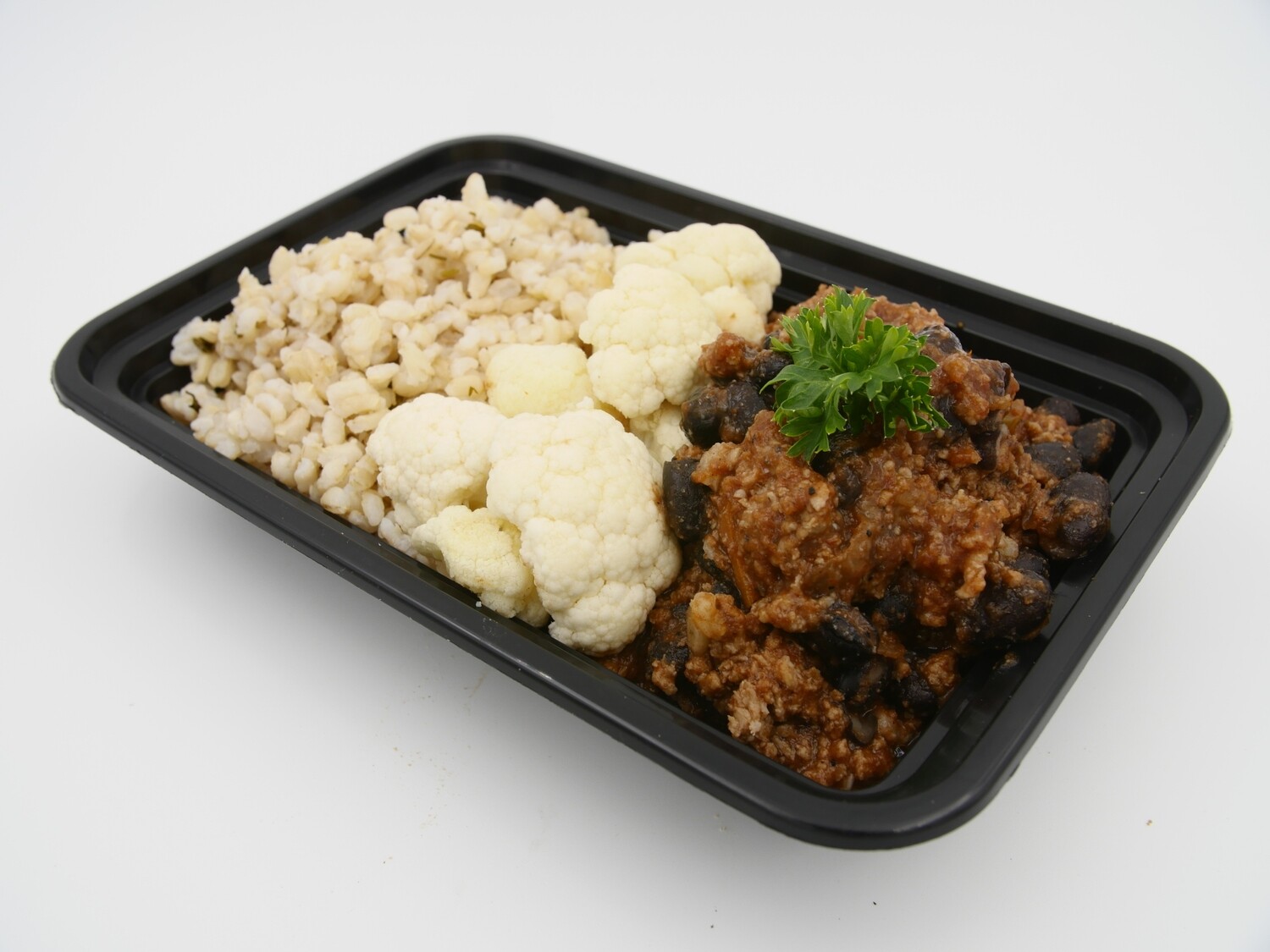 Menu for Week 11/29
(KF) Keto Friendly, (GF) Gluten Free, (LC) Low Carb, (KLI) Kids Like It
Weekly Special Offerings
1.Jalapeno Barbeque Chicken (KETO)-  Dark meat chicken rubbed, grilled and glazed in our house made jalapeno bbq sauce. Served with a cauliflower mac 'n' cheese and collard greens. Protein:39, Carbs:6, Fat:18 Cal:432 (KF)(LC)(GF). 
2.Tuscan Garlic Swai (KETO)- Swai white fish sauteed with olive oil, minced garlic and shredded parmigiano reggiano. Served with steamable zucchinis, Italian squash and spinach. Plate is garnished with  Italian parsley. (KF)(LC)(GF) Protein: 35g, Carbs:8, Fat: 22g, Cal: 370
3.Char Siu Pork w/ Zoodle Lo Mein (KETO)- Chinese five-spice flavored and grilled pork tenderloin served on a bed of zoodles topped with Asian stir fried veggies.  Protein: 36g  Carbs: 6 , Fat:22 Calories: 366 C (LC)(GF)(KF)
4.Beef Tamale Bowl - Mexican chili seasoned and simmered 93/7 ground beef served on a bed of corn polenta and a side of steamable zucchini squash. Garnished with cilantro and side of pico de gallo. Protein: 36, Fat: 12, Carbs: 12, Calories: 300 (LC)(GF)(KF)
Seasonal Offerings
5. Lemon Romano Chicken- Pan seared chicken tenders short simmered in a bright and creamy, lemon and Romano cheese flavored sauce. Served on a bed of whole wheat pasta and spinach. Then garnished with a lemon wedge and parsley. Protein:38, Carbs:26, Fat: 12g, Calories:364 (LC) KLI)
6. Turkey Taco Power  Bowl- Mexican seasoned and sauteed ground turkey. Served on a bed of Jasmine lime rice and black beans and shredded green cabbage on the side. Garnished with pico de gallo, lime wedges and cilantro.  Protein: 42g, Carbs:44, Fat: 12g, Cal: 368 (LC)(GF)
7. Thai Turkey Street Tacos- Build your own taco style. Our famous Thai Basil Ground Turkey. Served with a vegetable slaw (cabbage, carrots, red onions & cilantro) and a spicy peanut sauce on the side Protein: 38g, Fat: 16, Carbs: 29, Calories: 412 (LC)(GF)
OSM Originals
8. Cilantro Lime Ground Turkey- Our lime seasoned ground turkey finished with chopped cilantro served brown rice and spinach. Garnished with cilantro and a lime wedge. Protein: 38, Carbs: 28, Fat: 17, Calories: 417 (LC) (GF)
9. Original FitBurger- Lean ground beef patty and provolone cheese served between a whole wheat bun with all the toppings on the side. The toppings include rainbow kale, sliced red onions and honey mustard. Protein: 34, Carbs: 32, Fat: 16, Calories:408
Breakfast Offerings
10. Pineapple Tamale Protein Pancakes- Corn masa meal infused with whey protein and and bind with a banana puree. Topped with chopped pineapples and served with a side of sugar free syrup for topping. Protein: 30g, Carbs: 61g, Fat: 8g, Calories: 436 (LC)(GF)(KLI)
11. The Joe's Special - Lean ground turkey and chopped spinach scrambled in egg whites. Then served on a bed of ½ cup brown rice with a side of our house salsa. Protein: 38, Carbs:26 Fat:12, Cal: 364(LC)(GF)
12.Turkey Chorizo & Eggs Tacos-  Our house made turkey chorizo sauteed with egg whites, garnished with red onions, cotija cheese and cilantro. Guacamole salsa verde is served on the side. Street taco size tortillas are served on the side for a build-your-own taco experience. Protein: 32, Carbs:32 Fat:22, Cal: 454 (K)(LC)(GF)
13. Egg White and Turkey Bacon Breakfast Muffin- Open faced whole wheat muffin topped with an egg white omelette and turkey bacon spinach and tomato. Served with spinach, and a side of seasonal berries. Protein: 32g, Carbs:41g, Fat:12g, Calories: 400