You are now ordering for the week of August 9nd, 2020. 
ORDER DEADLINE 
Wednesday,  August 5th, 2020 at 11:59 pm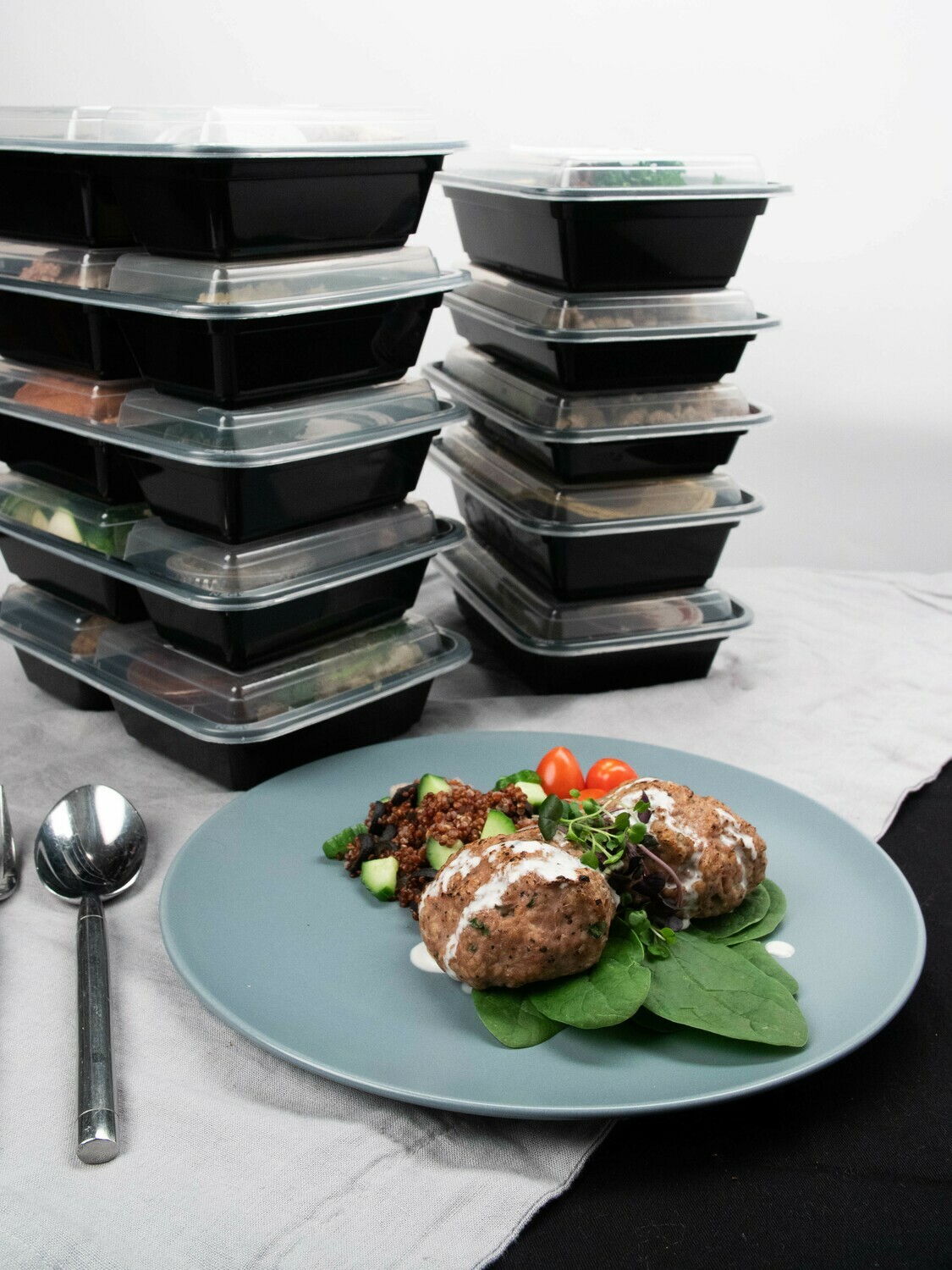 Menu for Week 8/9
Legend: (LC) Low Carb, (LF) Low Fat, (GF) Gluten Free, (KF) Keto Friendly
Weekly Special Offerings
Air Fried Popcorn Chicken (Keto)- Boneless chicken thigh coated in almond flour and Creole seasonings. Smothered with a buttermilk gravy and served on a bed of cauliflower grits and our house special collard greens. Protein:39, Carbs:6, Fat:32 Cal:468 (KF)(LC)(GF). 
Ginger Miso Tilapia-  Tilapia glazed with our ginger miso dressing then garnished with sesame seeds. Served with steamable Asian blend of vegetables and a side of sesame dressing. Protein:34, Carbs:6, F:22, Cal:326 (KF) (LC)
Ground Beef Lomo Saltado- A classic Peruvian dish made low-carb. Lean ground beef seasoned and stir fried in vinegar and soy. Then topped with stir fried onions, tomatoes and sweet potato fries. Also complimented with a side of aji verde a classic Peruvian green sauce. Served with a blend of fresh (never frozen)  steamable Normandy vegetables. Protein: 38, Carbs:10, Fat: 22 Cal: 390. (KF)(LC) 
Seasonal Signatures
Chicken Pita Pizza-  Eat it like a pita or as a pizza. Sliced chicken breast, with light mozzarella, marinara, peppers, onions and mushrooms on a whole wheat pita bread. Protein:34, Carbs:52, Fat: 10g, Calories:434  (LC)
Turkey Cajun Dirty Brown Rice- Train clean, eat dirty rice. Sauteed ground turkey, bell peppers, onions and celery in Cajun seasoning. Then sauteed with brown rice. Served with a side of spinach.
Protein: 34g, Carbs:48, Fat: 12g, Cal: 436
Buffalo Chicken Burger Bowl- Lean ground seasoned chicken patty broiled and glazed in a buffalo sauce. Served on a bed of ½ cup cilantro lime Jasmine rice and broccoli slaw. Ranch dressing is served on the side.  Protein: 41g  Carbs: 26 , Fat:12, Calories: 284 Carbs: 12, Calories: 376 (LC)(GF)
OSM Original 
Thai Basil Ground Turkey- Lean ground turkey stir fried in our Thai spices and seasonings and garnished with cilantro.. Then served on a bed of Jasmine rice and spinach.Protein: 39, Carbs:28, Fat: 12 Cal: 376 (GF)(LC)
Off the OSM Grill
Ortega Burger- Lean fit beef patty topped with light jack cheese, roasted Hatch green chiles and stuffed in a whole wheat bun. Served with sliced red onions and a bed of green leaf lettuce and our house made spicy island aioli. Protein:38, Carbs:45, Fat: 19 Calories: 494 (LC)
Breakfast Offerings
Peaches n Cream Protein Pancakes- Oatmeal flour infused with whey protein and bind with bananas. Served with a side of peaches and a light cream for topping. Protein: 30g, Carbs: 61g, Fat: 8g, Calories: 436
The Joe's Special - Lean ground turkey and chopped spinach scrambled in egg whites. Then served on a bed of ½ cup brown rice with side of our house salsa. Protein: 38, Carbs:26 Fat:12, Cal: 364(LC)(GF)
Chicken Chilaquiles- Shredded Chicken and corn tortillas doused with salsa verde and then baked. Topped with scrambled eggs and then garnished with cotija cheese, chopped onions and cilantro. Protein: 32, Carbs:32 Fat:9, Cal: 337 (K)(LC)(GF)
The Breakfast Plate- Scrambled egg whites, turkey sausage and Homestyle potato hash served with a side of Chia seed pudding and grapes. Protein: 46g Carbs: 37g Fat: 12g Calories: 380 (LC)(GF)