You are now ordering for the week of July 19th, 2020. 
ORDER DEADLINE 
Wednesday,  July 15th, 2020 at 11:59 pm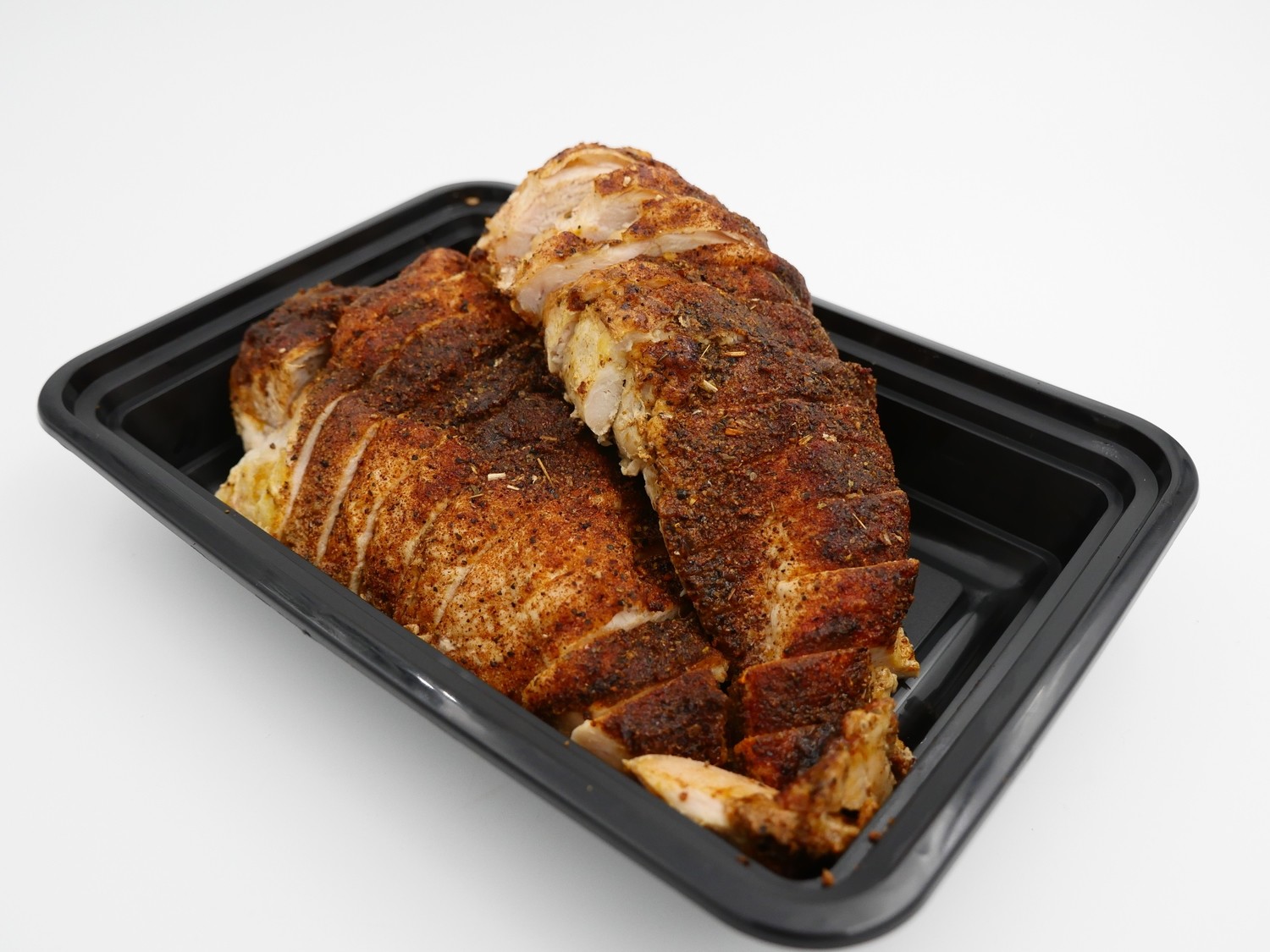 Menu for Week 7/19
Legend: (LC) Low Carb, (LF) Low Fat, (GF) Gluten Free, (KF) Keto Friendly
Weekly Special Offerings
Chipotle Blueberry BBQ Chicken- Boneless chicken thigh season rubbed, grilled then glazed in a chipotle blueberry  BBQ sauce. Served with cauliflower mac n cheese and our house special collard greens. Protein:39, Carbs:8, Fat:28 Cal:440 (KF)(LC)(GF). 
Cilantro Lime Tilapia w/ Mango Pico-  Tilapia glazed with our cilantro lime dressing served with mango pico de gallo served on the side. Also served with steamable blend of vegetables (shredded kale, broccoli slaw julienned peppers.)and . Protein:34, Carbs:6, F:22, Cal:358 (KF) (LC)
Chimichurri Steak & Hash- Argentine grilled top-sirloin steak served with red potato hash and spinach. Served with a side of our chimichurri dressing. Protein: 36, Carbs: 22, Fat: 18, Calories: 394 (LC)(GF)
Seasonal Signatures
Chicken Enchiladas-  Corn tortillas stuffed with seasoned pulled chicken breast & light cheese. Then topped with a red enchilada sauce and served with spinach.  Protein:36g, Fat: 7, Carbs: 50, Calories: 396 (LC)
Teriyaki Glazed Chicken Miso Meatballs- Lean chicken meatballs seasoned with miso and ginger then glazed with our house teriyaki sauce. Served over ½ cup brown rice and broccoli slaw.  Protein:41, Carbs: 32, Fat:6, Cal: 346
Moroccan Turkey Burger Bowl- Lean ground turkey patty seasoned with cumin, coriander, cinnamon, lemon zest and chili powder. Served on a bed of ½ cup quinoa and spinach with a side of spicy yogurt sauce.  Protein: 41g  Carbs: 26 , Fat:12, Calories: 284 Carbs: 12, Calories: 376 (LC)
OSM Original 
OSM Original Turkey Chili- Ground turkey slow cooked with our tomato based, black beans and Tex-Mex seasoning. Served with brown rice and cauliflower. Protein: 36, Carbs: 34, Fat: 12, Calories: 38 (LC) (GF)
American Burger- Lean fit beef patty topped with light cheddar cheese and stuffed in a whole wheat bun. Served with sliced red onions and a bed of green leaf lettuce and our house made  island  sauce. Protein:38, Carbs:42, Fat: 19 Calories: 491 (LC)
Breakfast Offerings
Lemon Creme Protein Pancakes- Oatmeal flour infused with whey protein and lemon zest served with a side of sugar free syrup and butter creme spread. Protein: 30g, Carbs: 59g, Fat: 12g, Calories: 465
Chicken Machaca & Egg Tacos-  Shredded chicken and bell peppers scrambled with  sauteed with egg whites garnished with red onions, cotija cheese and cilantro. Guacamole salsa verde is served on the side. Street taco size tortillas are served on the side for a build-your-own taco experience.. Protein: 38, Carbs:32 Fat:12, Cal: 388 (LC)(GF)
Egg White and Turkey Bacon Breakfast Muffin- Served with spinach, and a side of seasonal berries. Protein: 32g, Carbs:41g, Fat:12g, Calories: 400
The Breakfast Plate- Scrambled egg whites, turkey sausage and Homestyle potato hash served with a side of Chia seed pudding and grapes. Protein: 46g Carbs: 37g Fat: 12g Calories: 380 (LC)(GF)