You are now ordering for the week of 10/4. Orders are due by Wednesday 9/30 at 11:59pm.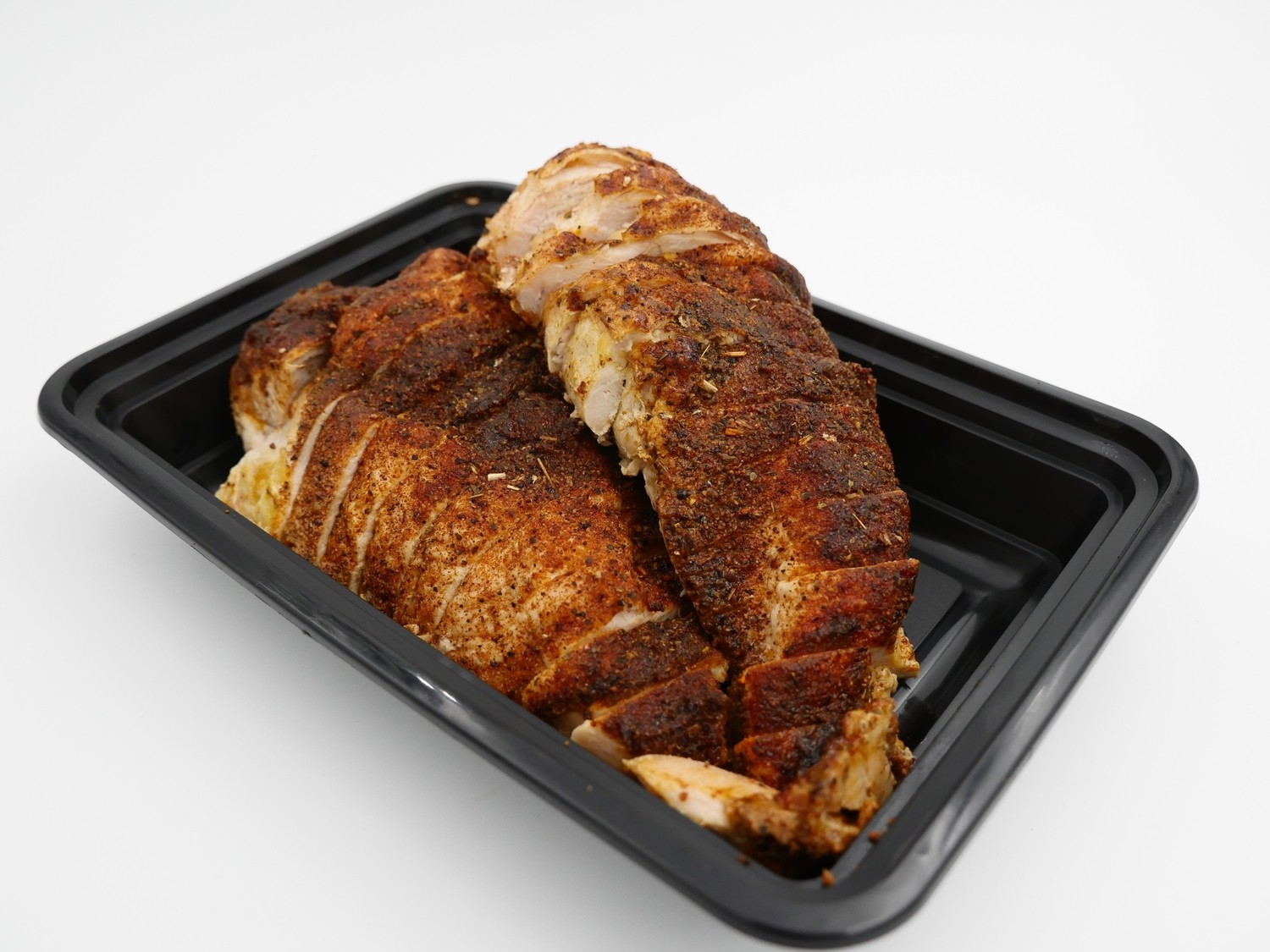 Menu for Week 10/4
(KF) Keto Friendly, (GF) Gluten Free, (LC) Low Carb, (KLI) Kids Like It
Weekly Special Offerings
Chicken Alfredo (Keto)- Grilled chicken on a bed of zoodle noodles then topped with our housemade Alfredo sauce. Served with steamable spinach on the side. Protein:39, Carbs: 6, Fat:18, Cal: 342. (LC)(GF)
Oktoberfest Schnitzel w/ German Cucumber Salad (Keto)- Flattened pork loin seasoned and coated with almond flour then air fried. Then lightly topped with gravy and served with a coarse mustard on the side. Gurkensalat, a German dill cucumber salad is also served in a separate cup. Protein: 33g, Carbs: 8g, Fat: 16g, Calories: 308 (GF)(KF)
Beefy Cajun Dirty Rice-  Cajun seasoned, lean ground beef sauteed with onions, celery and peppers. Served on a ½ cup bed of dirty brown rice with a side of steamed collard greens. Protein:38, Carbs: 22, Fat:12, Cal: 348 (KF)(GF).
Seasonal Signatures
Buffalo Chicken Pizza-  Whole pita crust topped with buffalo sauce, light mozzarella, sliced celery and grilled chicken. Served with a side of ranch dressing. Protein:34, Carbs:46, Fat: 16g, Calories:464  (LC) (KLI)
Birria Style Chicken Tacos- Build your own taco! Chicken breast slow simmered and braised until it shreds. Cooked down with a blend of red chiles and herbs. Served with 3 corn tortillas, shredded cabbage, diced onions and cilantro and the consomme served in a side portion cup. Protein: 38g, Carbs:32, Fat: 8g, Cal: 352 (LC)(GF)
Swedish Turkey Meatballs- Turkey meatballs simmered in gravy then topped with an onion jam. Served on a bed of garlic red potato mash and served with asparagus. Protein: 38 Carbs: 12 Fat:12, Calories: 308(GF)(LC)
OSM Original
Cilantro Lime Ground Turkey- Our lime seasoned ground turkey finished with chopped cilantro served brown rice and spinach. Protein: 38, Carbs: 28, Fat: 17, Calories: 417 (LC) (GF)
Ortega Burger- Lean fit beef patty topped with light jack cheese, roasted Hatch green chiles and stuffed in a whole wheat bun. Served with sliced red onions and a bed of green leaf lettuce and our house made spicy island aioli. Protein:38, Carbs:45, Fat: 19 Calories: 494 (LC)
Breakfast Offerings
Pumpkin Spice Protein Pancakes- Oatmeal flour infused with whey protein, pumpkin spice and bind with pumpkin puree..  Served with a side of  lemon cream and sugar free syrup for topping. Protein: 30g, Carbs: 61g, Fat: 8g, Calories: 436 (LC)(GF)(KLI)
Oktoberfest Cinnamon Toast Roll-  Two whole wheat toast battered with egg whites and whey protein. Then wrapped around baked apples.  Creme topping and sugar free syrup is served on the side. Protein: 24, Carbs:58, Fat 8, Cal: 328  (K)(LC)(GF)
Chicken Chilaquiles- Shredded Chicken and corn tortillas doused with salsa verde and then baked. Topped with scrambled eggs and then garnished with cotija cheese, chopped onions and cilantro. Protein: 32, Carbs:32 Fat:9, Cal: 337 (K)(LC)(GF)
Home Skillet on Yam Hash- Two scrambled eggs and 2 turkey sausage on a bed of hashed yams, green peppers and onions. Served with a side of our house picante salsa. Protein:34, Carbs:32, Fat:16 (LC)(GF)