You are now ordering for the week of January 26th, 2020. 
ORDER DEADLINE 
Wednesday, January 22nd, 2020 at 11:59 pm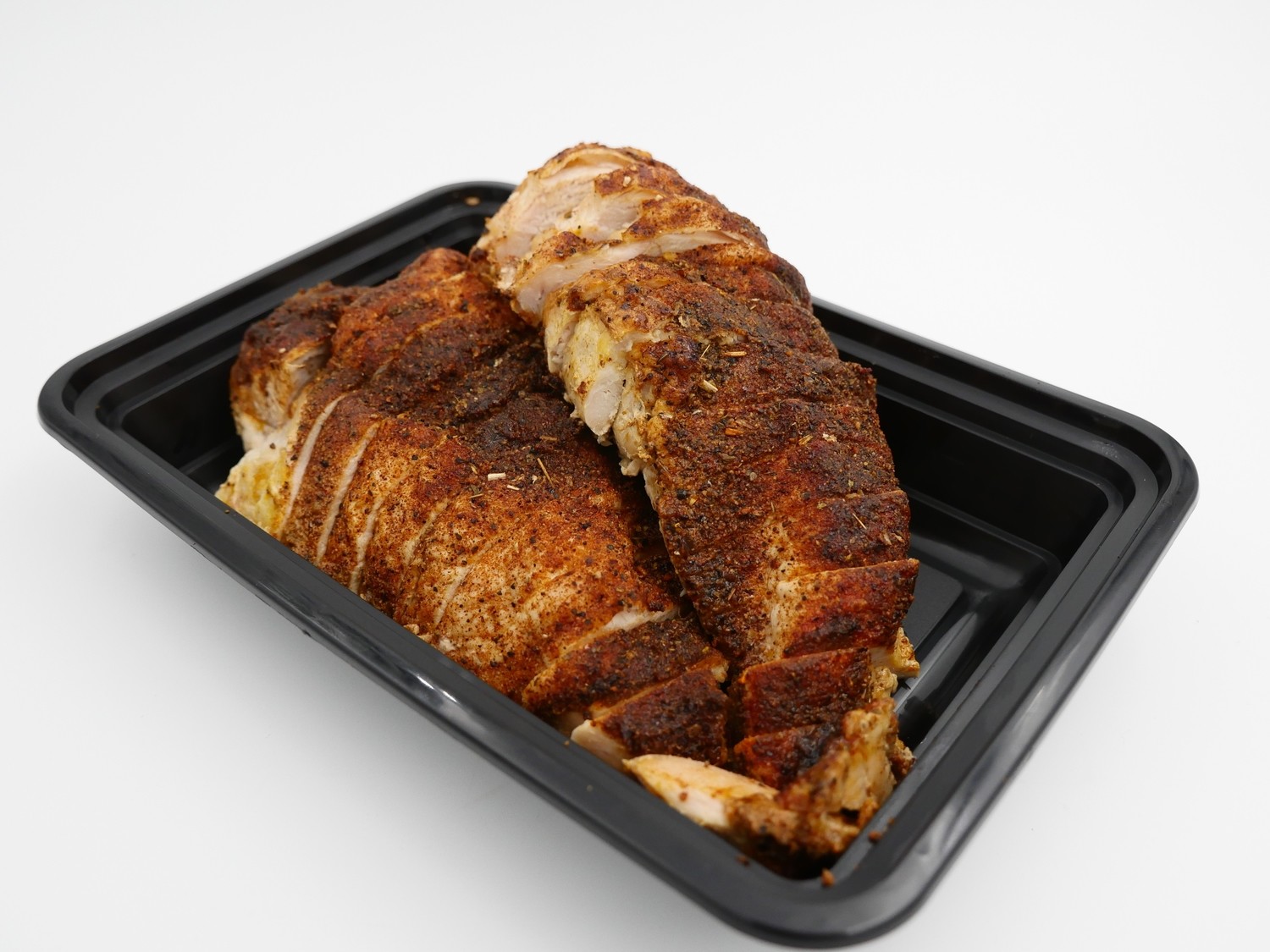 Weekly Special Offerings
Keto Buffalo Chicken - Dark meat boneless chicken rubbed, and glazed with Buffalo sauce. Served on a bed of cauliflower cheese grits and a side of celery sticks and cool ranch dressing. Protein:39 Carbs:6 Fat:23 Cal:390 (KF)(LC)(GF). 
Tuscan Garlic Shrimp- Shrimp sauteed with olive oil, minced garlic and shredded parmigiano reggiano. Served with steamable zucchinis, Italian squash and spinach. A side cup of creamy garlic butter sauce is also served on the side for dowsing or dipping. Plate is garnished with  Italian parsley. (KF)(LC)(GF)Protein: 35g, Carbs:8, Fat: 26g, Cal: 406
Teriyaki Flank Steak- Marinated trimmed flank steak grilled and glazed in our house made teriyaki sauce. Served with broccoli and cauliflower rice. Protein:41g, Carbs:8, Fat: 20g, Calories:376 (KF)(LC)(GF)
Seasonal Signatures
Korean Bulgogi Street Tacos- Ground chicken stir fried in Korean bulgogi sauce and stuffed in mini corn tortillas. Served with cilantro, onions shredded cabbage and a side of our house salsa. Protein: 41g, Fat: 7, Carbs: 49, Calories: 432 (LC)(GF)
White Bean Chicken Chili- A hearty serving of ground chicken slow cooked with Hatch green chilis, white beans and house herbs and seasonings then garnished with chopped red onions. Served with brown rice and spinach. Protein: 36, Fat: 12, Carbs: 44, Calories: 428 (LC) (GF)
Thai Basil Turkey (Pad Gaprao)- Lean ground turkey, sautéed in basil, garlic, onions, Thai chilis and stir fry sauce. Garnished with cilantro. Served on a bed of Jasmine rice.  Protein: 38, Carbs: 28, Fat: 17, Calories: 417 (LC)(GF). Contains soy sauce.
OSM Originals
Turkey Shepard's Pie-  A Classic British pub favorite. Lean ground turkey cooked with peas, carrots and onions on a bed of spinach. Then topped with a garlic cauliflower mash. Protein: 36g  Carbs: 8 , Fat:12, Calories: 284 Carbs: 12, Calories: 300 (LC)(GF)(KF)
American FitBurger- Lean ground beef patty and mild cheddar cheese served between a whole wheat bun with all the toppings on the side. The toppings include red leaf lettuce, sliced red onions and island dressing. Protein: 34, Carbs: 32, Fat: 16, Calories:408 (LC
Breakfast Offerings
Chocolate Chip Pancake Bake- Protein packed oatmeal pancakes baked in a casserole with bittersweet chocolate chips. Served with sugar free syrup. Protein: 16,  Net carbs: 34, Fat:17: Cal: 353 (LC)
Popeye Keto Bake- Lean ground turkey baked in whole eggs, chopped spinach, onions and Jack cheeses. Then served with a side of our house salsa. Protein: 32, Carbs:8 Fat:22, Cal: 358 (K)(LC)(GF)
Home Skillet- Three scrambled eggs, 2 pieces of pork bacon and roasted cauliflower. Protein: 32, Carbs:6, Fat:28, Cal: 388 (KF)(LC)(GF)
Almond Joy Overnight Oats- Oatmeal soaked with Greek yogurt, almond milk, coconut milk, and whey protein. Then topped with coconut flakes, sliced almonds and bittersweet chocolate. 50g C: 69g F: 7g Cal: 406
(KF)= Keto Friendly (LC)= Low Carb (GF)= Gluten Free