You are now ordering for the week of 1/24. Orders are due by Wednesday 1/20 at 11:59pm.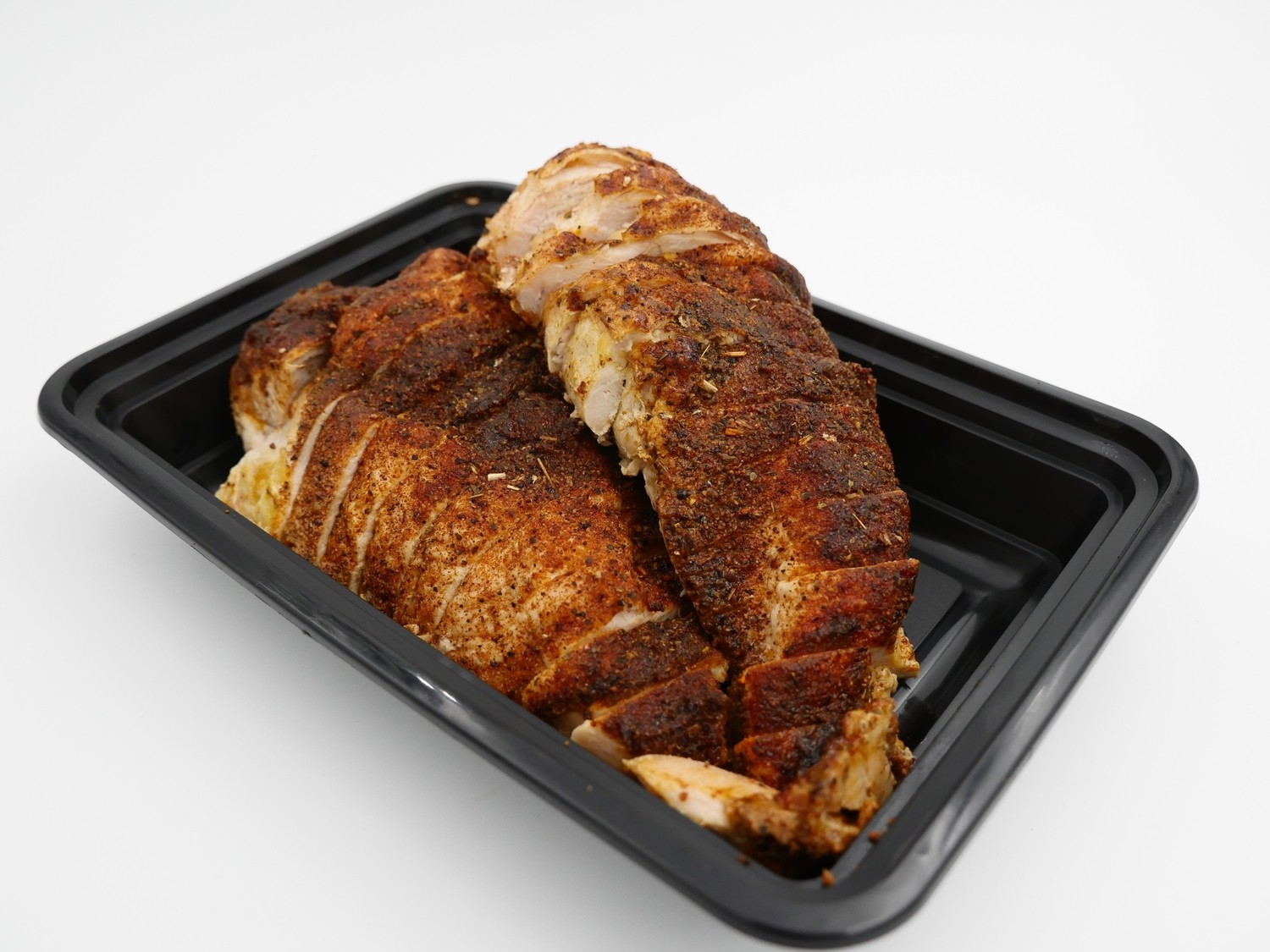 Menu for Week 1/24
(KF) Keto Friendly, (GF) Gluten Free, (LC) Low Carb, (KLI) Kids Like It (MDI) Mediterranean Diet Inspired
Weekly Special Offerings
1. Chicken Enchilada Bowl- Chicken breast seasoned, slow cooked then shredded. Served on a bed of corn grits and light cheese then doused with a red enchilada sauce on top.  Also topped with black olives, chopped tomatoes and onions.  Protein: 42, Carbs: 32, Fat: 10 Cal: 386 (KF)(LC)(GF) Contains:dairy
2. Mediterranean Swai w/ Tzatziki & Quinoa Salad. Mediterranean seasoned swai served with a quinoa salad made with balsamic vinaigrette, spinach, cherry tomatoes, cucumbers  sliced onions and our Greek Yogurt Tzatziki dressing. Protein: 38g , Carbs: 32, Fat: 5 , Calories: 325.(GF)(LC)(MDI)
3. Kalua Pulled Pork w/ Pineapple Pico De Gallo- A classic Hawaiian favorite! Slow cooked smoked pulled pork served on a bed of brown rice & red cabbage with a side of pineapple pico de gallo. Protein: 36g, Carbs:29, Fat: 7g, Cal: 323  (GF)(LC)
4. Turkey Stuffed Bell Peppers- Bell peppers stuffed with seasoned ground turkey, brown rice and chopped vegetables (tomato, onions, garlic, carrots, celery). Then topped with a tomato sauce and served with a side of steamable spinach. Protein: 38 Carbs: 33 Fat:12, Calories: 392(GF)(LC)(KLI)
Seasonal Offerings
5. Tinga Chicken Tacos- Served build your own taco kit style! Shredded chicken breast that was slow simmered in broth, chilis, zest and seasonings. Served with cilantro, onions shredded cabbage and a side of our house salsa. Protein: 41g, Fat: 7, Carbs: 49, Calories: 432
6. Basil Chicken(Pad Gaprao)- Lean ground chicken, sautéed in basil, garlic, onions, Thai chilis and stir fry sauce. Garnished with cilantro. Served on a bed of Jasmine rice and spinach.  Protein: 38, Carbs: 28, Fat: 17, Calories: 417 (LC)(GF). Contains soy from liquid aminos.
7. Turkey Shepherd's Pie-  A Classic British pub favorite. Lean ground turkey cooked with peas, carrots and onions on a bed of spinach. Then topped with a garlic potato mash. Protein: 36g  Carbs: 28, Fat:12, Calories:364  (LC)(GF)(KF)
OSM Originals
8. Turkey Bolognese- Turkey & diced vegetables (celery, carrots, onions, garlic & basil) slow cooked in a red sauce. Then served on a bed of whole wheat pasta and spinach. Protein:42g, Fat: 12, Carbs: 42, Calories: 444 (LC)(KLI).
9. Steak Night- Top sirloin steak (4oz.) marinated in balsamic and liquid aminos, then grilled to a medium rare. Sliced and served with roasted sliced yams and steamable broccoli. Protein:33, Carbs: 28, Fat:12 , Cal: 352.(LC)(GF)
Breakfast Offerings
10. Strawberry Chocolate Protein Pancake- Pancakes bind with bananas, egg whites and oatmeal infused with chocolate  and whey protein. Then topped with strawberries and served with a sugar free syrup. Protein: 47g, Carbs: 54g, Fat: 12g, Calories: 512
11. Egg White and Chorizo Breakfast Burrito- Egg whites sautéed with our house made turkey chorizo. Then stuffed in a whole grain tortilla Served with spinach, and a side of seasonal berries and salsa. Protein: 34g, Carbs:44g, Fat:12g, Calories: 420 (LC)
12. The Joe's Special - A San Francisco café classic! Lean ground turkey and chopped spinach scrambled in egg whites. Then served on a bed of ½ cup brown rice with a side of our house salsa. Protein: 38, Carbs:26 Fat:12, Cal: 364(LC)(GF)
13. Egg, Spinach & Sausage Scramble on Cheese Grits- Egg whites, spinach and turkey sausage scrambled on a bed of corn cheese grits. Served with a side of pico de gallo. Protein: 32, Carbs:32, Fat:10, Cal: 346 (KLI)(LC)(GF)