You are now ordering for the week of April 12th, 2020. 
ORDER DEADLINE 
Wednesday,  April 8th, 2020 at 11:59 pm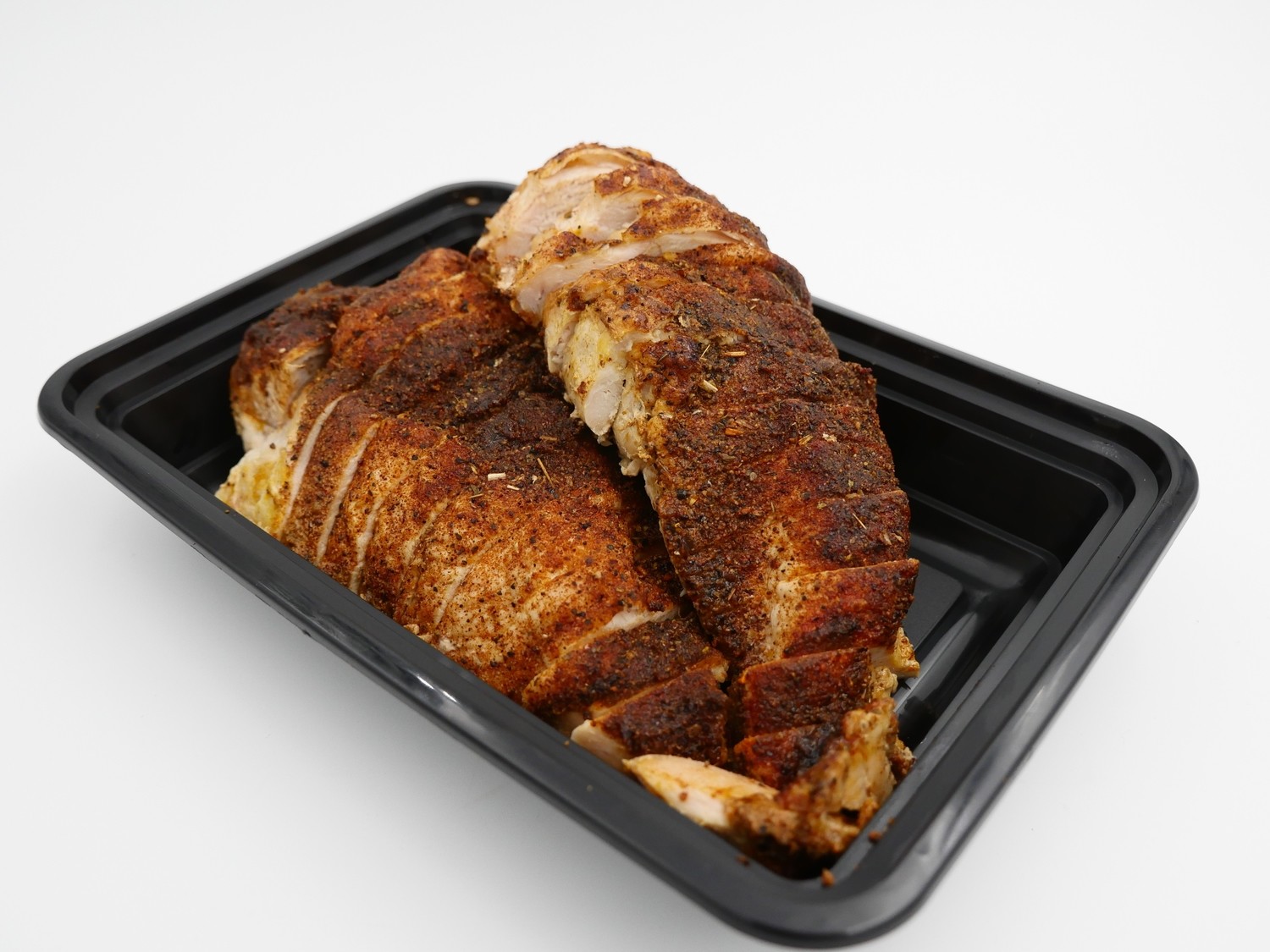 Weekly Special Offerings
Keto BBQ Chicken - Chicken thigh rubbed, glazed and grilled with our house made bbq sauce. Served with a heaping serving of our house famous collard greens. Protein:39 Carbs:9 Fat:18 Cal:354 (KF)(LC)(GF). 
Shrimp Diablo Fajitas- Mexican chile lime seasoned and sauteed shrimp in olive oil. Served on a bed of stir fried fajita vegetables (red & green bell peppers, onions). Then garnished with mexican cheeses, cilantro and lime. Served with cauliflower and broccoli. Protein: 33g, Carbs: 9g,, Fat: 12g, Calories: 276. (KF)(LC)(GF). 
Beef Kafta w/ Tahini Honey Cauliflower- Moroccan style ground grilled ground beef served with seasoned and roasted cauliflower tossed with herbs and a tahini honey dressing. Spinach is served on the side.  Protein: 39g, Carbs: 9g, Fat: 21g, Calories: 381. (KF)(LC)(GF). 
Seasonal Signatures
Chicken Chorizo Tacos- Build your own taco style. Lean ground chicken marinated in our house made chorizo seasoning. Served with diced onions and cilantro for garnishing and our house made salsa verde and cabbage slaw on the side .  Protein: 41g, Fat: 12, Carbs: 29, Calories: 388 (LC)(GF)
Szechuan Chicken- Diced chicken breast coated  in almond flour and sauteed in our spicy Szechuan sauce. Garnished with sesame seeds and slivered green onions. Served with asparagus and Jasmine rice. Protein: 41 Carbs:29 Fat:9, Calories: 361 (LC) (GF)
Swedish Turkey Meatballs- Turkey meatballs simmered in gravy then topped with sauteed onions and raspberry jam. Served with mashed garlic red potatoes and broccoli. Protein: 38 Carbs: 32 Fat:12, Calories: 388(GF)(LC)
OSM Original 
Turkey Chili- Ground turkey slow cooked with our tomato based chili served with brown rice and spinach. Protein: 36, Fat: 12, Carbs: 44, Calories: 428 (LC) (GF)
Original FitBurger- Lean fit beef patty topped with provolone cheese and stuffed in a whole wheat bun. Served with sliced red onions and a bed of kale house and our famous chef sauce. Protein:38, Carbs:42, Fat: 19 Calories: 491 (LC)
Breakfast Offerings
Original OSM Protein Pancakes- Two stacked protein packed oatmeal pancakes made with egg whites, whey and a banana base. Served with sugar free syrup and seasonal berries on the side. Protein: 31,  Net carbs: 52, Fat:7: Cal: 395 (LC)
Mexican Machaca Bake.  Shredded chicken, julienned peppers, onions and Mexican cheeses. Then served with a side of salsa verde. Protein: 32, Carbs:8 Fat:22, Cal: 358  (LC)(GF)(KF)
Eggs and Sausage on Cheese Grits (cauliflower)- Three scrambled eggs and Turkey sausage on a bed of our famous cauliflower cheese grits. Protein: 32, Carbs:6, Fat:28, Cal: 404 (KF)(LC)(GF)
Raspberry  Spiced Oats- Oatmeal soaked with Greek yogurt, almond milk, protein powder married with chopped raspberries & topped with granola. 50g C: 69g F: 7g Cal: 539